Coolrec processes Uruguayan CRT screens
18 April 2016
Coolrec, a Van Gansewinkel subsidiary, started processing CRT screens for the Uruguayan non-ferro recycling company WERBA. As Uruguay currently lacks a domestic facility for the environmentally friendly processing of CRT screens, the market leader has decided to work together with the WEEELABEX-certified recycling firm Coolrec. Coolrec expects to convert 300,000 kilograms of screens per year into raw materials for new products.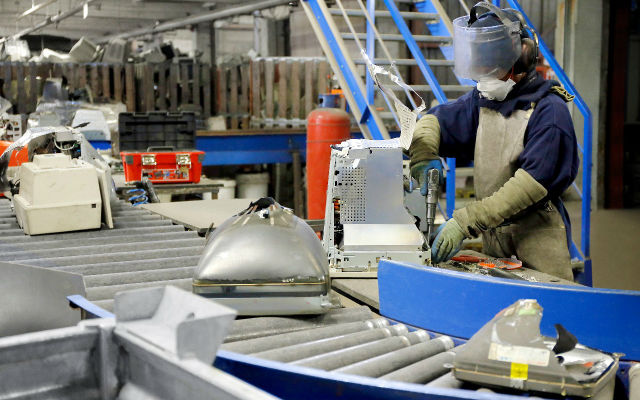 The family business WERBA was established in 1935. It has since grown to become market leader in its segment, with extensive experience in the recycling of non-ferro materials, discarded electric and electronic appliances and batteries. In addition, the company produces copper wire from waste. WERBA is delighted with the new intercontinental partnership.
"As an 80 year old recycling company WERBA is always looking for environmentally friendly solutions for every kind of material that comes into our plant. Since Uruguay is a small country, the amount of waste generated is small enough to make it non-viable to process it here, so we have to look for solutions abroad. And that is how we found Coolrec and a perfect solution for the recycling of the CRT monitors that are disposed in Uruguay. After the great results with CRT Monitors we had, we are looking to expand our cooperation with Coolrec in other materials such as plastics and WEEE", according to Emiliano Avondet, Head of Production at WERBA.
Coolrec specialises in the processing of electric appliances and electronic products into high-grade, recovered raw materials. The recycling firm came in touch with WERBA via its broad international e-waste recycling network. "We are processing the 300 tonnes of CRT (cathode ray tube) screens at our location in Willenbroek, Belgium. We disassemble the screens so that we can separate the plastic, copper, electronics, glass and circuit boards. The screens are subsequently broken in pieces by a shredder, during which process the phosphorescent powder is collected separately. The glass is given a new life in a follow-up programme, while the hazardous phosphorescent powder is processed further by a specialised organisation. As a result, the entire process is WEEELABEX-certified," explains Coolrec Director Arjen Wittekoek. "In addition to hazardous substances, discarded appliances also contain various valuable components and materials. This partnership allows us to correctly process the screens into raw materials that can be used in the manufacture of new products – giving them a new life. We are proud that our expertise in this field is recognised far beyond Europe."
---