All Coolrec sites now WEEELABEX-certified
17 January 2017
Certification of the RDE site in Baumholder, Germany means that all Coolrec sites are now certified to WEEELABEX standards. Coolrec, a recycler of electrical and electronic equipment, successfully passed the final audit held at the RDE site for the manual processing of small appliances, CRT screens and printed circuit boards. Coolrec RDE is the first company in the Rhineland-Palatinate state to obtain this highly rated certificate and only the ninth company in the whole of Germany to do so. Obtaining certification for all Coolrec sites clearly bolsters the recycler's position in Europe.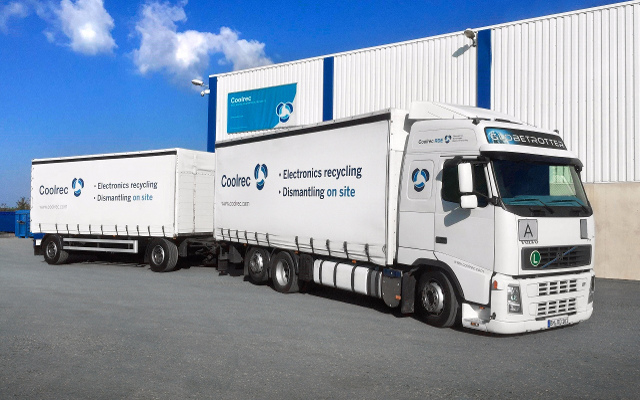 The WEEE (Waste Electrical and Electronic Equipment) Directive is the European Community directive governing the collection and recycling of such waste. With its nine sites in the Netherlands, Belgium, Germany and France, Coolrec provides a comprehensive, international network for the processing of WEEE at the highest level. "Coolrec recycles electrical appliances and electronic products, turning them into high-quality recovered plastics, metals and other raw materials. The company recycles a large variety of products, ranging from screens and refrigerators to ICT equipment and small household appliances", explains Arjen Wittekoek, Director of Coolrec. "WEEELABEX certification is already compulsory in a number of countries when it comes to the processing of materials. Obtaining certification in Germany means that we can now process waste products from the Netherlands and France - countries in which certification is already required - in Germany, too."
Coolrec RDE
The company's site in Baumholder focuses on three core activities. "Firstly, it processes small waste electrical and electronic equipment collected by the local authority, sorting it and then depolluting it - in other words, removing substances from it that could contaminate the environment", continues Wittekoek. "In addition, we dismantle high-specification electronic equipment, such as computers, mobile telephones and televisions, at this site. The third primary activity is the manual processing of printed circuit boards."
WEEELABEX
The deciding factors in terms of WEEELABEX certification were the high recycling percentages achieved by Coolrec and the excellent quality of the recovered raw materials. WEEELABEX focuses primarily on process control, continuous improvement and the maximum recovery of valuable secondary raw materials. Wittekoek: "Coolrec was the first recycling company in the Netherlands to obtain WEEELABEX certification. And I am extremely proud to say that all of our sites are now certified. This demonstrates the professionalism of our processes and systems, as well as the expertise of our staff. WEEELABEX certification guarantees that valuable recovered plastics are of the highest possible quality. For example, we turn as much as 98% of old refrigerators into new raw materials, while all the time guaranteeing the highest standards in terms of safety and sustainability."
---